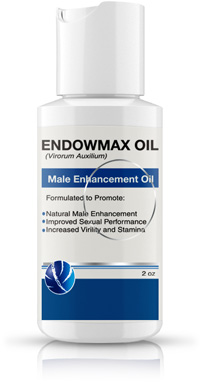 Endowmax Oil

Review:
Male Sexual Health
Rated:
98

out of

100


by

SexTips.org
The topical male enhancement product Endowmax Oil is advertised to give you harder and longer lasting erections, control over your ejaculations, and more pleasure for you and your lover. Using this oil may also provide you with bigger erections with more strength and stamina, and an increase in your sex drive.
Ingredients in Endowmax Oil
The active ingredients in this topical male enhancement product include:
L–Arginine: This ingredient boosts circulation in the body and helps in nitrogen synthesis and nitric oxide production. It also promotes blood flow to the penis, which strengthens erections.
Hawthorne extract: This extract is known for its support of male sexual health. It may also delay orgasms.
Epidemii extract: This is used to arouse male sexuality and may increase testosterone production throughout the body, which in turn generates sexual desire.
Ginkgo biloba: Ginkgo also promotes circulation in the body and improves blood flow.
Methyl nicotinate: This is the known as the "topical delivery system." Methyl nicotinate helps deliver the active ingredients to your bloodstream so this topical male enhancement works immediately.
Antioxidants: Endowmax Oil also includes a variety of antioxidants, which should promote circulation. These antioxidants also aid in the elimination of free radicals in the body.
Using Endowmax Oil
The producers of Endowmax Oil recommend that you rub the product onto your penis. The desired results should happen immediately. They also say that you can use this male topical enhancement oil for as long as you would like without the worry of side effects.
Does Endowmax Oil Work?
The ingredients in Endowmax Oil seem sensible when talking about male topical enhancement. The one problem may not be with the product but rather with the company's philosophy on male sexual performance. With phrases (on the website) such as "Make your partner beg you to stop" the whole sexual pleasure idea is deflated. It starts to sound more like a power trip rather than a product that is supposed to give pleasure to you and your partner – which is also advertised on the site.