Best Oral Sex Positions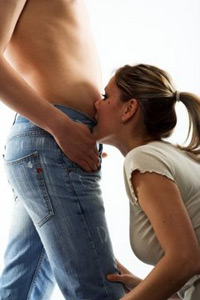 You can't possibly think about having a healthy sex life without oral sex. And you certainly can't think about having good oral sex without knowing some of the best oral sex positions out there. These positions will allow you to get creative with your oral sex, and wow your partner in the bedroom. Rather than beating around the bush, let's dive in!
Best Oral Sex Positions For Her
The best oral sex positions for men allow for more experimentation and more pleasure. They include:
The 68 - Hers (and His)
Question: What's a 68?
Answer: You do me and I'll owe you one!
The 68 position is a variation on the 69, but instead of the woman straddling the man's face and then leaning forward to perform oral sex on him, she faces upwards instead and receives all the pleasure. This allows her partner to grab a hold of her hips and waist for leverage. Simply prop yourself up with a pillow and get to pleasing!
This position works great for cunnilingus as well as for tossing the salad. Set the mood by sensually caressing your lover, tracing your hands along her entire body, for maximum orgasmic pleasure.
(On the flipside, a slight role reversal with him on top instead of her puts a whole new spin on fellatio - but hey, this section is for the ladies.)
The Shower Straddle

This position is fun and sexy. It involves the woman putting a foot on the edge of the bathtub to spread her wide legs while the man kneels below her and performs oral sex. This allows the woman to literally "ride" her partners face while he performs oral sex on her.
The Pillow
The pillow provides a more comfortable version of this more traditional oral sex position. Simply place a pillow under the woman's hips to raise her pelvis. This allows the man to get a better angle on his partner's vagina while allowing his partner to lie back and relax.
The Sit 'n Sin
In this fun and adventurous oral sex position, the woman can sits on a chair or on edge of the bed. While her partner kneels in front of her, she wraps her legs around his neck. This is a very comfortable position for both partners and keeps hands free for fun and exploration.
Best Oral Sex Positions For Him
Standing Man
An oldie but goodie, the Standing Man allows for the best ease of motion as the woman performs oral sex. It involves her kneeling in front of the standing man, and allows her access to his testicles and anus for further pleasure and experimentation.
Sitting Man
The sitting man involves the woman kneeling in front of her partner while he sits in a chair on the edge of a bed. This allows the man to relax while his partner performs oral sex on him.
Lying Man
This has got to be most guys favorite position because it allows maximum relaxation while the receive the intense pleasure of oral sex. In this position, the woman hovers over him, performing oral sex.
The 69
This all – time favorite, the 69 is like a buffet of oral sex – everyone gets as much as they want. To perform this position, one partner lies on his/her back while the other does the inverse, giving each partner an all – access pass to the best oral sex every.
Male Sex Enhancement


Hot Topics


Secrets of the Porn Stars Make her quiver!

Faking it?
Say hello to the big "O"
Multiple Orgasm Tips