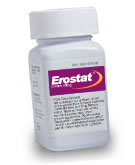 Erostat

Review:
Female Enhancement Pill
Rated:
79

out of

100


by

SexTips.org
Erostat is marketed as the first "fast working" female enhancement product on the market. It is supposed to enhance lubrication by 480% in 30 minutes, increase libido and boost orgasm intensity and frequency by 200%–300%.
It is an all natural product that also claims to increase your sexual desire, heighten your senses, lift your spirits and mood, and amplify your awareness.
Ingredients in Erostat
Erostat contains "phyto–hormone" stimulating herbal ingredients. Following is a list of the ingredients found in Erostat:
Ashwagandha: This herb is used to battle stress and its negative effects on the body. It has also shown anti–oxidant properties in some tests as well as sex–enhancing properties.
Damiana: This leaf is known as an aphrodisiac, which revives your sexual drive and reduces the effects of lethargy and depression on your body.
Dong Quai: The root of this plant is often used to treat menstrual pain and cramping.
Fennel: Fennel contains anethole, which can cause estrogen–like effects in the female body. It is also used for stomach pain and bloating.
Gugul: This ingredient has been used to treat obesity and urinary disorders.
Muira Puama: The bark and roots of this tree are used to resist sexual debility and fatigue.
Saw Palmetto: This is used to ward off prostrate problems and has shown some aphrodisiac qualities.
Yohimbe: Another term used for "horny goat weed," it is known to increase nitric oxide levels, which allows more blood to flow to the penis or clitoris.
How to Use Erostat
Erostat can be taken on a daily basis. The manufacturers claim that you can take it everyday to maintain a feeling of well–being or take it one hour before you have sex to increase libido and sexual desire.
Does Erostat Work?
The claims made by the manufacturer seem to be a bit far–fetched. You should probably talk to a doctor or to any friends who may have tried Erostat before buying it. There is a money back guarantee but you have to take the "full cycle" before you can claim your money. You should investigate this further.

Our Readers' Poll Choice for Female Enhancement Pills:
Week of: Thursday September 21st, 2023
Ladies: Which female enhancement pills will take your sex life to the next level and which ones fail to perform? Check out our poll results to see for yourself! With so many female enhancement pills on the market, you want to make sure you choose the one that's right for you. Our user-submitted reviews will help make this choice easy!