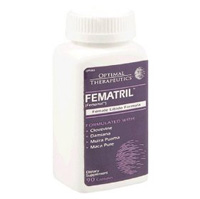 Fematril

Review:
Female Enhancement Pills
Rated:
81

out of

100


by

SexTips.org
Fematril is designed to increase libido, generate a healthy sex drive and improve upon your orgasms. It can also aid in sexual performance, sensitivity, endurance and overall sexual responsiveness. It is marketed as an all natural, safe and efficient female enhancement product.
Fematril's Ingredients
Clovevine powder: Used as an aphrodisiac and stimulant for both men and women.
Muira puama: Known as "potency wood" this shrub is touted as a powerful aphrodisiac, nerve stimulant and to aid with sexual debility.
Damiana leaf: Regarded as an aphrodisiac, this herb brings back your sexual drive and reduces the effects of lethargy and depression on your body.
Di–Arginine Malate: This is a double bonded amino acid (arginine) molecularly bound to malic acid. Clinical studies report that it helps with strengthening muscles and many athletes/weight lifters use it. It also supports nitric oxide production.
Cnidium Monnier: The seeds of this plant are used as an aphrodisiac and they also are known to help in the release of nitric oxide, which increases blood flow.
Avena Sativa: A common oat plant, it is used as an aphrodisiac and to treat nervous exhaustion. It is said to be a mild and gentle sexual performance enhancer that works best when teamed with other more powerful sex drive herbs.
How to Use Fematril
Fematril should be taken with water once a day. The optimum effects may not be felt until after four to six weeks but some women have had more immediate results. Many women have taken Fematril as an everyday enhancer of well–being and improved sex drive.
Does Fematril Work?
Like other female enhancement products there are fans of Fematril but the ingredients are a bit confusing because many of them are also used for male sexual enhancement. It would be wise to look at other products on the market that target low libido in women before purchasing Fematril.

Our Readers' Poll Choice for Female Enhancement Pills:
Week of: Thursday September 21st, 2023
Ladies: Which female enhancement pills will take your sex life to the next level and which ones fail to perform? Check out our poll results to see for yourself! With so many female enhancement pills on the market, you want to make sure you choose the one that's right for you. Our user-submitted reviews will help make this choice easy!