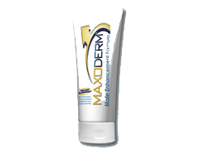 Maxoderm

Review:
Male Enhancement Cream
Rated:
80

out of

100


by

SexTips.org
Maxoderm male topical enhancement product is advertised as a rapidly released sexual aid, which means that it should work within 60 seconds of application. The manufacturers also tout that it aids in sexual pleasure, maximizes sensation and the "feeling" of firmness, which should give you more confidence in the bedroom. Like its competitors Maxoderm is a targeted male enhancement product.
Ingredients in Maxoderm
The active ingredients in Maxoderm include Vasotran Advetro Includes: L–Arginine, Methyl Nicotinate, Muira Puama, Panax Ginseng, Catuaba, Maca, Nettles, Zinc and Menthol.
For some reason the website for Maxoderm does not break down the active ingredients and tell you exactly what each one of them are doing to help you with your sex life. This probably should not give you much comfort or confidence in the product since most competitors explain what their ingredients are and how they can benefit your erection process and your sex life.
It could be that the manufacturers want to keep the ingredients in Maxoderm a secret but it's probably safe to bet that their competition is conscious of the ingredients and how they affect male sexual performance.
How to Use Maxoderm
The producers of Maxoderm claim that their product will work in less than 60 seconds but they recommend an "initial integration phrase". This means that you should be applying this male topical enhancement lotion four times in week one, six times per week in weeks four through six and three times per week in weeks eleven through twelve.
This is much different than most of the competition but the producers of Maxoderm have their own philosophy on how to stimulate male sexual desire.
Does Maxoderm Work?
While Maxoderm may work for some men the lack of clarification on their active ingredients is troubling. Also, the "initial integration phrase" could be contrived or simply a marketing ploy so you will buy at least 12 weeks worth of their product. Before you purchase Maxoderm, it's really in your best interest to research other male enhancement products. There is no reason to be hasty when comes to spending your hard earned money.

Our Readers' Poll Choice for Male Enhancement Creams and Oils:
Week of: Thursday September 21st, 2023
Which male enhancement creams and oils are right for you and which are just scams? Check out the results of our user-submitted poll to find out! With the right male enhancement cream, you can be your best in bed. Don't risk throwing your money away on male enhancement products that just don't work. Discover which male enhancement cream works best by reading the results of our poll today!