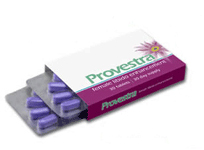 Provestra

Review:
Female Enhancement Pills
Rated:
50

out of

100


by

SexTips.org
Provestra comes in a pill form and is supposed to enhance your sexual impulse, increase the sensitivity level of your clitoris, improve sexual response and encourage lubrication. The ingredients in Provestra are geared toward bringing a balance back to your sex life and rid you of your low sex drive.
Provestra's Ingredients
Red raspberry leaf: This herb is known as a female tonic, uterine contraction regulator and pregnancy herb.
Licorice root: A result of taking this root is the strengthening of the adrenal glands and the improvement of overall hormonal function.
Damiana leaf: This leaf is used as an aphrodisiac and known for its ability to stimulate the genitals.
Valerian root: In many cases this root is taken to ease tension and emotional stress, and to aid in restful sleep patterns.
Ginger root: A root that is a system stimulant that enhances the action of other herbs.
Black cohosh root: This has a mild sedative effect on the body and also balances hormones.
How to Use Provestra
It is recommended that you take Provestra on a daily basis to maintain your sex drive and diminish the problems that have been occurring due to a low libido. It may take a few doses to increase libido and increase sex drive.
Does Provestra Works
Although Provestra does have some active ingredients that are known to increase your sex drive, Provestra also has valerian root and black cohosh root, which produce more of a feeling of sleepiness and relaxation rather than the feeling of sexual desire.
Due to these ingredients, many test results showed that although the people taking Provestra felt relaxed and a bit sedated, they did not feel that it cured or helped their low sex drive. With that being reported, Provestra was not highly recommended. You should research other products and their ingredients before investing in Provestra.

Our Readers' Poll Choice for Female Enhancement Pills:
Week of: Thursday September 21st, 2023
Ladies: Which female enhancement pills will take your sex life to the next level and which ones fail to perform? Check out our poll results to see for yourself! With so many female enhancement pills on the market, you want to make sure you choose the one that's right for you. Our user-submitted reviews will help make this choice easy!