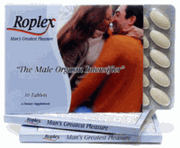 Roplex

Review:
Male Enhancement Pills
Rated:
85

out of

100


by

SexTips.org
Roplex, a nutritional supplement, features Scandinavian flower pollen and saw palmetto to increase the intensity of the male orgasm. It also can improve prostate health. Per the manufacturers' website, this combination of ingredients helps increase the strength of the muscles that support the vas deferens, as well as reducing the size of the prostate gland. This allows the contractions that cause orgasm to be stronger and more numerous, thus lengthening and intensifying orgasm. The product also claims to increase testosterone levels, also contributing to a more intense sexual experience.
About Roplex
Roplex claims to increase the length and intensity of male orgasm, as well as reducing recovery time between orgasms. Reducing the size of the prostate supposedly allows it to be more efficient in the production of semen. More semen creates longer orgasms, as it takes more contractions of the vas deferens muscles to ejaculate the larger quantity of semen.
Roplex Ingredients
The formulation of Roplex is based on traditional Northern European herbal remedies, said to have been used for generations to increase male sexual response. The Scandinavian flower pollen is processed in such a way as to be allergen–free. Saw palmetto has long been associated with prostate health. Roplex contains no fillers or other chemicals. Be sure to address any concerns about taking supplements of any kind along with prescription or other medications with a doctor.
Roplex Cost
Roplex is priced about the same as other, similar products, at $39.99 for a single bottle, with lower prices for larger quantities. Like most male enhancement products, Roplex offers a 90–day money–back guarantee.
Does Roplex Work?
While Scandinavian flower pollen has supposedly been used to great effect in Northern Europe for generations, there's little other than patient testimonials on Roplex's website to support its efficacy. Saw palmetto is well–known to help support prostate health, but its role in improving sexual performance is less certain.

Our Readers' Poll Choice for Male Enhancement Pills:
Week of: Thursday September 21st, 2023
Which male enhancement pills are the real deal and which are just pretenders? Find out now! The right male enhancement pill can be the difference between having the sex life of your dreams and ending up being a dud in the sack. You don't want to fall victim to another male enhancement pills scam. Read the results of our polls, as submitted by users like you, to discover which male enhancement pills work best!