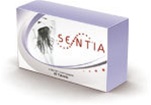 Sentia

Review:
Female Enhancement Pills
Rated:
75

out of

100


by

SexTips.org
Sentia claims to increase a woman's sexual desire and libido, create enhanced sensitivity and lubrication, enrich energy levels and improve orgasms with a special blend of herbs and phytonutrients.
Sentia's Ingredients
The manufacturers of Sentia believe that they have the best quality ingredients along with the precise amounts of each ingredient to produce optimal effects in female enhancement.
Red raspberry leaf: Red Raspberry is used to relax uterine and intestinal spasms and is known to strengthen uterine walls.
Ginkgo Biloba: Clinical studies show that Ginkgo Biloba extract improves circulation to the brain as well as the extremities. This is achieved by reducing blood viscosity.
Dodder Seed: When matched with other herbs Dodder seed is more effective and has been long known for its support of longevity.
Valerian Root: Used as a calming agent and to decrease anxiety.
Isoflavones: They are known to expunge menopause symptoms and have natural antioxidant properties.
Epimedium: This can assist in boosting libido and increasing sexual desire. It's been documented that epimedium also has anti–stress effects and can reduce fatigue.
Damiana Leaf: A well known aphrodisiac, this leaf has been documented as creating a warming and tingling sensation throughout the body.
Bayberry Fruit: This ingredient assists in uterine and vaginal health as well as improving circulation.
Black Cohosh Root: This root is used to ward off the effects of menopause such as hot flashes, dizziness and depression. It may also help balance the levels of estrogen in the body.
How to Use Sentia
Sentia come in a tablet form and should be taken daily with juice or water. Many users felt the results in two weeks but usually have to wait until four weeks to feel the full effect.
Does Sentia Work?
It is comforting that the manufacturers of Sentia claim to use the highest grade ingredients in their female enhancement tablets, but many of these ingredients are geared to helping with the side effects of menopause not the lack of sex drive. Ingredients such as Black Cohosh Root and Valerian Root could also cause the user to feel very relaxed and a bit sedated, not sexy.
Before purchasing Sentia you should research products that have ingredients that are more in tune with increasing sex drive and elevating low libido in women.

Our Readers' Poll Choice for Female Enhancement Pills:
Week of: Thursday September 21st, 2023
Ladies: Which female enhancement pills will take your sex life to the next level and which ones fail to perform? Check out our poll results to see for yourself! With so many female enhancement pills on the market, you want to make sure you choose the one that's right for you. Our user-submitted reviews will help make this choice easy!