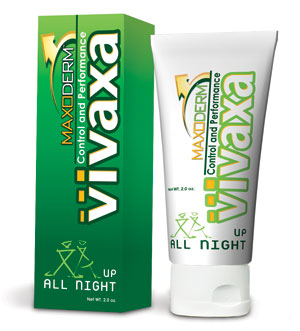 Vivaxa

Review:
Male Enhancement Cream
Rated:
75

out of

100


by

SexTips.org
The producers of Vivaxa classify their product in the male desensitizer category. It is advertised to help diminish sensitivity in the penis area without having a numbing effect that could ruin the pleasure part of having sex. It is a topical cream and is also supposed to increase a man's stamina, thus improving love making for their partner.
Ingredients in Vivaxa
Unfortunately the producers of Vivaxa do not provide you with a list that informs you of what the active ingredients in the product do to make you have more stamina. They do say that they have a combination of ingredients that includes Peptide 171, which improves erection performance and a skin calming ingredient, Calmosensine™.
These two ingredients are quickly absorbed so your female partner is not negatively affected by them – she does not feel any numbing while having intercourse.
How to Use Vivaxa
Vivaxa has a recommended "initial integration phrase." What that means is you should be applying this male topical desensitizer lotion four times in week one, six times per week in weeks four through six and three times per week in weeks eleven through twelve.
This is somewhat unconventional when compared to most of the competition but the producers of Vivaxa must believe that this system brings out the best in their product.
Does Vivaxa Work?
As far as desensitizers on the market go, most of the manufacturers give you a list of ingredients along with an explanation of what those ingredients do. Some people may get alarmed when product manufacturers, especially herbal or natural products, don't have a comprehensive list of their ingredients. As a potential customer you should not have to spend time researching the ingredients that they casually list on a web page – this should be done for you.
Because of that, if you are seriously thinking of purchasing Vivaxa then contact them and ask for a detailed list. If not, research other products and be certain to find out the active ingredients in their desensitizers.

Our Readers' Poll Choice for Male Enhancement Creams and Oils:
Week of: Monday December 11th, 2023
Which male enhancement creams and oils are right for you and which are just scams? Check out the results of our user-submitted poll to find out! With the right male enhancement cream, you can be your best in bed. Don't risk throwing your money away on male enhancement products that just don't work. Discover which male enhancement cream works best by reading the results of our poll today!