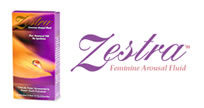 Zestra

Review:
Female Enhancement Oil
Rated:
70

out of

100


by

SexTips.org
Zestra is a female sexual enhancement oil that is all natural, topical and is hormone–free. The producers of Zestra state that it is the only product that has been clinically shown to quickly increase your sexual appetite, enhance sexual satisfaction and improve your chances for having an orgasm.
Zestra was intended to be used during foreplay (it should be massaged onto the clitoris) but can also be used during intercourse and oral sex – although the producers do admit it's not the most pleasant tasting. You should feel Zestra working within three minutes of application and its effects can last as long as 45 minutes.
Ingredients in Zestra
Zestra contains only plant–derived natural ingredients that will not create any soreness in the vaginal area. The ingredients are "PA – free" Borage Seed Oil – Evening Primrose Oil – Angelica Extract – Coleus Extract – Vitamin C – Vitamin E. Zestra also contains natural fragrances that allegedly serve as aphrodisiacs.
The manufacturers of Zestra assert that the natural ingredients work in harmony to stir sexual feelings and sensitivity and to produce sexual satisfaction. They do not say on their website what each ingredient does or how it works to stimulate your sexual desires and make you hungry for a sexual encounter.
Does Zestra Work?
It would be more reassuring if the website promoting Zestra had a list of ingredients that included a comprehensive report on how and why these ingredients promote female sexual stimulation. It's easy to say that these ingredients act as aphrodisiacs but could be harder to prove it.
Of course Zestra has its "star" power with Rachel Ray on the opening page of the website, joined by a doctor. If you are serious about purchasing this female enhancement product you should contact the company and ask for a detailed breakdown of the ingredients. They should be happy to provide you with that information.

Our Readers' Poll Choice for Female Enhancement Creams and Oils:
Week of: Monday December 11th, 2023
Which female enhancement creams and oils actually work and which don't live up to the hype? Check out the results of this week's reader's choice poll question to find out. These poll results will help you make certain you choose the best female enhancement cream for your needs. Learn more now!