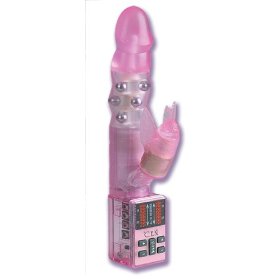 Decadent Indulgence

Review:
Female Sex Toy
Rated:
81

out of

100


by

SexTips.org
If you are looking for intensity and an eye–popping orgasm machine then the Decadent Indulgence may be the sex toy for you. It is equipped with a unique stimulator that has eight levels of accelerating vibrations for deep clitoral and vaginal arousal. It also has three patterns of rhythmic motion with reverse movement giving you a massaging effect when inserted.
The Decadent Indulgence is dual action, so while you are inserting it nine pleasure beads are vibrating in the shaft as short ticklers and caressing butterfly wings tease your clitoris. The vibrator itself is rather large and the girth may surprise you at first but once the rotating head goes to work, you may be on another planet.
The Verdict on the Decadent Indulgence
Most women agree that the Decadent Indulgence sex toy is an all around fabulous vibrator – big enough to bring out the wild nature in a woman but not too big as to make you feel uncomfortable. Many women also experienced multiple orgasms because they just couldn't put this toy down. The rotating head and the butterfly wings combined to give a sensational feeling that had many reaching orgasm within minutes of turning the Decadent Indulgence on. The pleasure beads and short ticklers joined in to give what many women described as an unforgettable experience.
With all these positive reviews this sex toy at the very least deserves some attention.
What you need to know about the Decadent Indulgence
The total length of this vibrator is nine and a half inches with an insertion size of just over six inches. It is also one and three quarter inches wide. It runs on four AA batteries and is made of soft material, which may come with a cherry scent.

Our Readers' Poll Choice for Sex Toys:
Week of: Tuesday November 30th, 2021
Which sex toys excite and which ones disappoint? Find out now by checking out the results of this week's poll question. Nothing can add some fun and excitement to your sex life faster than a great sex toy. Make sure you choose the right sex toys for your needs by reading the poll results today!