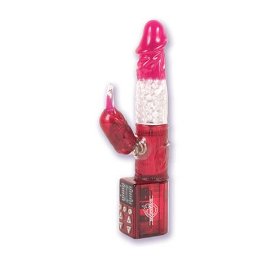 Doc Johnson I Vibe Rabbit

:
Sex Toy Review
Rated:
51

out of

100


by

SexTips.org
Equipped with state–of–the–art technology the Doc Johnson I Vibe Rabbit has three independent modes of vibration, pulsation and rotation right at your fingertips. This allows you to customize the tempo of the rotating pearl shaft and the clitoris stimulator – giving you the perfect pleasing–speed you desire.
As the ribbed shaft turns it massages and stimulates you and the flexible shaft also gives you the opportunity to insert all seven inches. The Doc Johnson I Vibe Rabbit also has different functions, for example on function two the rabbit ears provide steady, alternating vibrations on your clit, while the pearls tumble and massage the head rotates in a clockwise then counter clockwise motion.
Mixed Reviews for the Doc Johnson I Vibe Rabbit Works
Although there are many women that swear by this sex toy, there are some that are also disappointed. The women who enjoyed the Doc Johnson I Vibe Rabbit said that the intermittent vibrations were a real tease; the sensation did not give them an automatic orgasm but the stimulation built up and up until they couldn't take it any longer and they experienced a mind blowing orgasm. Other women who never used a sex toy before did say that the first time they turned the Doc Johnson I Vibe Rabbit loose they burst into an orgasm within minutes.
Other women were not so positive and, actually, were very disappointed in this sex toy. Some said that there was not enough power and the bunny ears would stop working at the worst possible times. The noise of this vibrator was also a turn off. It was so loud that many women could not concentrate and felt more annoyed than turned on.
Details on the Doc Johnson I Vibe Rabbit
The vibrator is seven inches long and takes four AA batteries. It is not recommended to get it wet unless you are cleaning it carefully with mild soap and water. The Doc Johnson I Vibe Rabbit retails for around $80 but is much more expensive at some other locations. Some women felt that the functions were too confusing so keep that in mind when purchasing this sex toy.

Our Readers' Poll Choice for Sex Toys:
Week of: Tuesday June 25th, 2019
Which sex toys excite and which ones disappoint? Find out now by checking out the results of this week's poll question. Nothing can add some fun and excitement to your sex life faster than a great sex toy. Make sure you choose the right sex toys for your needs by reading the poll results today!