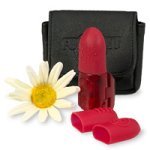 Fukuoku Vibrator

Review:
Female Sex Toy
Rated:
65

out of

100


by

SexTips.org
This vibrator is marketed as the world's smallest. The Fukuoku vibrator features fingertip vibrating sensations just by slipping the adjustable finger ring over your finger. The finger ring has a stimulator sleeve attached to it and you can drive yourself wild or your lover absolutely crazy by massaging her clitoris while making love.
There are three different finger sleeves, one with four lines on it, the other has 17 dots and the last one has a swirl configuration. Each of these sleeves is geared toward giving you a different type of sensation. You or your lover can use one finger sleeve or slip on two sleeves for double the fun – one for the clitoris and maybe one for your nipples or anal area. It's all up to you to experiment and find the recipe for that body–shaking orgasm you desire.
Does the Fukuoku Vibrator Rank?
The reviews on the Fukuoku vibrator are very interesting. It seems that when the vibrator is used in tandem with love making, especially when the man massages the clitoris area while inserting his penis, the results are more powerful and outrageous orgasms for the women.
As a stand alone vibrator the Fukuoku is not as successful. Many women complain that it simply is not powerful enough and that this sex toy is not recommended for penetration, which takes away some of the fun. The intensity of the vibration is lacking, especially for those women who need a powerful buzz to reach climax.
Overall, you may be better off trying another vibrator if you are into masturbation, but if you want to expand your bedroom antics with your lover then the Fukuoko vibrator may be just the thing.
Elements of the Fukuoku Vibrator
This sex toy is operated by two watch batteries or micro batteries for power and it comes with a pouch for storage. The cost for a Fukuoko vibrator is around $24 but prices do tend to vary depending on where you are shopping.

Our Readers' Poll Choice for Sex Toys:
Week of: Tuesday June 25th, 2019
Which sex toys excite and which ones disappoint? Find out now by checking out the results of this week's poll question. Nothing can add some fun and excitement to your sex life faster than a great sex toy. Make sure you choose the right sex toys for your needs by reading the poll results today!