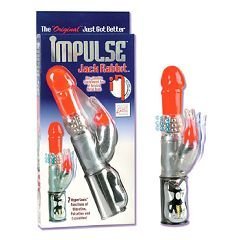 Impulse Jack Rabbit

Review:
Female Sex Toy
Rated:
85

out of

100


by

SexTips.org
The Impulse Jack Rabbit vibrator is a kicked up version of the original Jack Rabbit vibrator. It now comes with new levels of vibration, pulsation and escalation, and has a soft penis head with textured nodes geared toward increasing stimulation and satisfaction. Its insertion length is seven inches and a width of one and a half inches.
The Impulse Jack Rabbit also has seven levels of intensity, vibration and pulsation for clitoral stimulation and six levels of non–jamming rotating beads to enhance your pleasure and create a mind–blowing orgasm.
What Women are Saying About the Impulse Jack Rabbit
Many women voluntarily reviewed the Impulse Jack Rabbit because of their wildly sensational experiences. They thought that the power and the intensity of the stimulation were fabulous. It gave them incredible orgasms in such a short period of time. Even with the extra cost these women wouldn't trade this sex toy in for anything. The metal beads and textured nodes teased them again and again. High marks were also given to the controls on the Impulse Jack Rabbit vibrator. They are easy to use and don't ruin the moment by being too technical or hard to master.
This new version of the Jack Rabbit vibrator has certainly made an impact on the lives of the women who have decided to purchase it.
What You Should Know About the Impulse Jack Rabbit
The new Impulse Jack Rabbit sells for around $65, which is not cheap but many women admit that they do not mind paying this price as long as the Impulse Jack Rabbit vibrator gives them extreme pleasure. By the looks of the reviews the Impulse Jack Rabbit is doing just that.
The Impulse Jack Rabbit runs on four AA batteries, weighs approximately one pound and is made out of a soft yet firm jelly material. Another benefit to using the Impulse Jack Rabbit vibrator is its lack of noise. This vibrator is very quiet, which is nice when you want a bit of privacy or feel the sudden urge to sneak off for some "you time."

Our Readers' Poll Choice for Sex Toys:
Week of: Tuesday November 30th, 2021
Which sex toys excite and which ones disappoint? Find out now by checking out the results of this week's poll question. Nothing can add some fun and excitement to your sex life faster than a great sex toy. Make sure you choose the right sex toys for your needs by reading the poll results today!