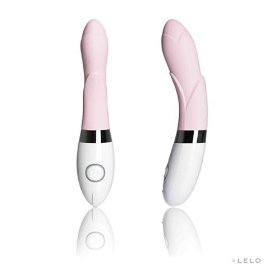 Lelo Iris

Review:
Female Sex Toy
Rated:
74

out of

100


by

SexTips.org
There is a fingertip dial for easy use and it offers five different stimulation patterns for you to investigate. The patterns by number go: 1) crown, continuous; 2) base, continuous; 3) both, short pulse; 4), both, long pulse; 5) both, continuous.
The Lelo Iris also has soft ridges along the shaft that transfer the vibrations throughout your vagina when inserted and it is gently curved to reach your G–spot.
And the Verdict on the Lelo Iris is?
The two vibrating engines seem to do the trick. Most women not only love the way it looks but they are wild about the power of the vibrations when inserted or rubbed against their clitoris. Some were a bit confused about how to move from different stimulation patterns but once they got that down the room was rocking.
There are not a lot of bells and whistles on the Lelo Iris but they didn't care because of the intensity of the vibrations, which seemed to radiate throughout their body giving them orgasms that left them exhausted.
What You Should Know About the Lelo Iris
This sex toy comes with an internal rechargeable battery that provides you with up to four hours of use after a three hour charge period. This battery never needs replacing and this vibrator comes with a 1–year manufacturer guarantee. The Lelo Iris is not cheap; it usually sells for $100 to $130.
It is made up of PC–ABS plastic and silicone and is hypoallergenic. The Lelo Iris has an insertable length of five and one–sixteenth inches and a one and three–eighth inch diameter.

Our Readers' Poll Choice for Sex Toys:
Week of: Tuesday June 25th, 2019
Which sex toys excite and which ones disappoint? Find out now by checking out the results of this week's poll question. Nothing can add some fun and excitement to your sex life faster than a great sex toy. Make sure you choose the right sex toys for your needs by reading the poll results today!