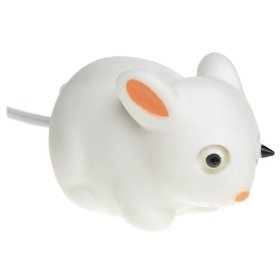 Mini Rabbit Vibrator

Review:
Female Sex Toy
Rated:
60

out of

100


by

SexTips.org
If you are intimidated by those monster vibrators or just prefer a smaller version then the Mini Rabbit vibrator is right up your alley. Featuring six different speed settings to satisfy you, the Mini Rabbit vibrator includes a motorized vibrating and spinning shaft with beads that send ripples of ecstasy through your body and a bunny–shaped clitoris stimulator.
Another benefit that the Mini Rabbit vibrator gives you is the opportunity to be discreet, in case you want to bring it with you when you travel. It will easily fit in your purse or suitcase so you can please yourself when you want and where ever you want.
Mixed Reviews for the Mini Rabbit Vibrator
Although this vibrator seems to work well, there are some complaints about its construction and longevity. Men and women have written reviews that range from rapturous to disappointed. The Mini Rabbit Vibrator really seems to please some women, and they entirely get off on its power and clitoris stimulator but this sex toy has a nasty habit of breaking. While they celebrate the incredible orgasms they reach, the women are not happy that the wires on this sex toy come loose and it's just not reliable.
One moment a man recommends the vibrator because his wife is going crazy when they use it in bed, and the next moment he is lamenting the fact that he has to keep fixing it after every use. Of course this is something to think about when shopping for a vibrator that's in the category of the Mini Rabbit vibrator.
Details on the Mini Rabbit Vibrator
This vibrator has an insertion length of just over five inches and it is made up of a jelly–like soft material. It takes four AAA batteries and retails between $70 and $80.

Our Readers' Poll Choice for Sex Toys:
Week of: Tuesday June 25th, 2019
Which sex toys excite and which ones disappoint? Find out now by checking out the results of this week's poll question. Nothing can add some fun and excitement to your sex life faster than a great sex toy. Make sure you choose the right sex toys for your needs by reading the poll results today!