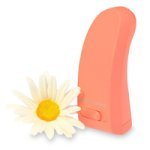 Natural Contour Vibrator

Review:
Female Sex Toy
Rated:
70

out of

100


by

SexTips.org
Designed by women and made especially for a women–s body, the Natural Contour vibrator is intended to be a sex toy that is discreet and ergonomic. These vibrators hug the contours of your inner body, reaching the G–spot and other erotic zones and combine a powerful buzzing action that culminates in an eye–opening orgasm.
Depending on the type of Natural Contour vibrator you choose, they can resemble a women–s razor, a hand–held massaging device or even a cell phone. They do not look like a normal vibrator and they are not intended to because one of the purposes of this type of vibrator is the freedom to carry it with you without embarrassment.
Do Women Enjoy the Natural Contour Vibrator?
One of the first things that women comment on when talking about the Natural Contour vibrator is its look and shape. They may have some doubts at first but when they put this sex toy to work most of the women experienced mind–blowing orgasms that left them trembling.
Another positive about this vibrator is its ability to hit the G–spot and its versatility – women used it to stimulate their clitoris and their anus, varying the speeds and pulsing power. One criticism of this sex toy is that the speed controls are a bit confusing and seem to work backward – one push of the button being the fastest speed instead of the slowest. Many women would switch through the speeds only to have the Natural Contour vibrator turn off because of their confusion.
Features on the Natural Contour Vibrator
These types of vibrators come in a few different sizes, from petite models to vibrators that measure eight inches long. The Natural Contour vibrators are made of non–porous, high–quality plastic. Most require two AA batteries and these sex toys should not be immersed in water. As with all vibrators you should carefully clean them after each use.

Our Readers' Poll Choice for Sex Toys:
Week of: Tuesday June 25th, 2019
Which sex toys excite and which ones disappoint? Find out now by checking out the results of this week's poll question. Nothing can add some fun and excitement to your sex life faster than a great sex toy. Make sure you choose the right sex toys for your needs by reading the poll results today!