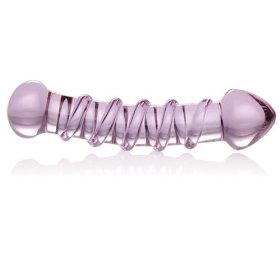 Pyrex Dildo

Review:
Glass Sex Toy
Rated:
89

out of

100


by

SexTips.org
Advertised as the sex toys that are also works of art Pyrex Dildos are made of high grade pyres glass that can last a life time if they are cared for properly. These dildos come in exotic colors and shapes; they can also be ribbed or have love nubs on them, which create sensations that make your knees weak. They are also crafted especially for anal masturbation or G–spot probing.
Another unique feature regarding the Pyrex dildo is your ability to heat or cool the dildo for an enhanced feel. Many women have simply gone wild over the erotic sensation of a Pyrex dildo warmed up and lubed probing their vagina.
Do Women Agree on the Pyrex Dildo?
While many women want a more aggressive sex toy – a vibrator or life–like dildo – almost every woman remarked how beautiful the Pyrex dildos are, and that in itself was a turn–on. Another positive factor was the ease in which you can clean these dildos and the fact that they don't break or depend on batteries – you just take your Pyrex dildo out and it is ready to please you.
Men also liked the response that their partners had to the Pyrex dildo. When warmed and lubed some men said they had a hard time keeping their ladies from bucking off the bed. Some women like the icy sensation they felt when they cooled down the dildo. It was a whole new experience and very satisfying.
Benefits of the Pyrex Dildo
The Pyrex dildo is unique among sex toys as it is usually made from medical grade glass, phthalate free, doctor recommended; it can be warmed or chilled down; it is more sanitary and easier to clean; they have a completely smooth, non–porous surface and are able to last a lifetime if you take the time to care for them.
The Pyrex Dildo is also distinctive in its colors and shimmering glass body. They may not be the end all sex toy but you may want to add one to your collection.

Our Readers' Poll Choice for Sex Toys:
Week of: Friday March 24th, 2023
Which sex toys excite and which ones disappoint? Find out now by checking out the results of this week's poll question. Nothing can add some fun and excitement to your sex life faster than a great sex toy. Make sure you choose the right sex toys for your needs by reading the poll results today!