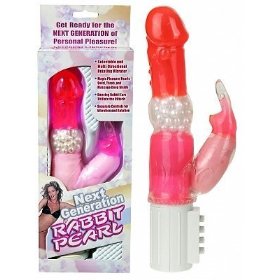 Rabbit Pearl Vibrator

Review:
Female Sex Toy
Rated:
70

out of

100


by

SexTips.org
You'll never think about a rabbit the same after using a Rabbit Pearl vibrator. This sex toy is actually cute but don't let the looks fool you – it packs a vibrating punch. Spinning pearls in the vibrator's shaft supply you with toe–curling feelings and the hand pack provides you with easy access when you want to speed up the action.
Separate controls activate the clitoris stimulator so you can find that perfect "buzz" balance that will lead to your perfect orgasm. The Rabbit Pearl vibrator is pink and made up of a soft material that is easy to clean up and maintain, which is perfect especially if you use it often. It's also convenient if you use it with lubrication, which many women choose to do.
The Ladies Agree on the Rabbit Pearl Vibrator
If you need a bit of persuasion before buying a sex toy like the Rabbit Pearl vibrator then you should check out the incredible reviews that many women give it. They love the intense orgasms that this sex toy gives, and many also express jubilation at how easy it is to use and that their husbands or boyfriends also really get off watching them have such wild experiences.
Some women thought that the Rabbit Pearl Vibrator was a little noisy but the power of the vibration matched with the clitoris stimulator completely pushed aside any negative thoughts about this sex toy.
Nuts and Bolts on the Rabbit Pearl Vibrator
The Rabbit Pearl vibrator is seven and a half inches long and one and a half inches at its widest point. The vibrator runs on three C batteries, which you most likely will have to purchase separately. The Rabbit Pearl vibrator is expensive, running in the $80 range but you may find it on sale if you do your research.

Our Readers' Poll Choice for Sex Toys:
Week of: Tuesday June 25th, 2019
Which sex toys excite and which ones disappoint? Find out now by checking out the results of this week's poll question. Nothing can add some fun and excitement to your sex life faster than a great sex toy. Make sure you choose the right sex toys for your needs by reading the poll results today!