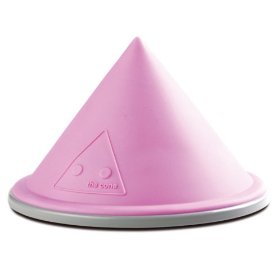 The Cone Vibrator

Review:
Female Sex Toy
Rated:
83

out of

100


by

SexTips.org
The Cone vibrator is much different than the usual vibrators and sex toys you see on the market. It is literally coned–shaped, cylindrical and almost pyramid–like except that there are no sharp edges. The Cone vibrator is made up of a silicone material that is soft enough to be very comfortable when you put your weight on it but also firm enough for it to reach the places that you desire.
You can program up to sixteen settings on the Cone and it is advertised as having a super–charged motor. Unlike other vibrator products the Cone is hands–free and comes with a booklet that gives you illustrations on how to situate yourself on the Cone. You are free to experiment until you find the right combination that leads to an orgasm.
What Do the Women Say?
Almost every review is positive on the Cone vibrator. Some hard–core ladies that prefer penetration and monster vibrations don't like the more subtle approach that this sex toy provides, but in the end many ladies reached multiple orgasms once they found the right position and angle. The Cone is also easy to operate with the controls at the base of the vibrator.
A lot of the women liked the fact that there are so many positions to try and they found that they reached different types of orgasms according to the position and the setting of the Cone. Maintaining this vibrator was also very easy according to those who enjoyed it and the noise level is lower than most other vibrators.
Product Details on the Cone Vibrator
The Cone vibrator is four and three quarter inches tall and it takes three C batteries. It is not recommended to immerse this vibrator in water when cleaning and you should use a water–based lubricant when using the Cone. This vibrator is a bit expensive with prices in the $130 range.

Our Readers' Poll Choice for Sex Toys:
Week of: Tuesday June 25th, 2019
Which sex toys excite and which ones disappoint? Find out now by checking out the results of this week's poll question. Nothing can add some fun and excitement to your sex life faster than a great sex toy. Make sure you choose the right sex toys for your needs by reading the poll results today!