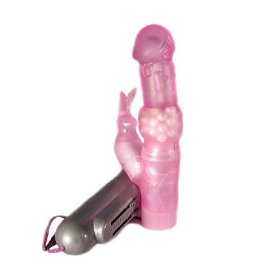 Vibratex Pearl Rabbit

Review:
Female Sex Toy
Rated:
86

out of

100


by

SexTips.org
If you're looking for a vibrator that packs an extra punch check out the Vibratex Pearl Rabbit. It is equipped with small size pearls that spin around in the shaft. These pearls give you a current of spine tingling sensations when inserted. As an added bonus a bunny–like device vibrates and massages your clitoris. The Vibratex Pearl Rabbit is also bendable, which enables you to reach those secret places that desire attention.
This vibrator has a battery pack control panel, which allows you to change speeds when necessary. The left switch starts the bunny device working on your clitoris and the right switch makes the pearl shaft rotate. Both the shaft and the ears are independently controlled and you can increase, lower or vary the speeds.
Does the Vibratex Pearl Rabbit Really Work?
If you are the type of person that requires proof that a product really works and does what the manufacturer claims then you should do your research and find some reviews on this sex toy. To give you an idea of what has been written about the Vibratex Pearl Rabbit, here is a general idea of what women think: Some women after trying this sex toy once felt compelled to use it day after day because of the quality of orgasms they were experiencing. This bendable vibrator makes it easier for them to experiment and the clitoris massage device builds them up to the point of no return.
There was a lot of positive feedback on how easy the controls were to use and that they could vary the speeds on the shaft and the bunny ears to give them an added boost of pleasure.
More on the Vibratex Pearl Rabbit
This sex toy is made of high quality medical grade vinyl and has two motors that cause the vibration and rotation. It is seven and a half inches long from top to base and one and a half inches wide. The vibrator runs on three C batteries and has a variable speed battery pack so you can turn up the juice when you are in the mood.

Our Readers' Poll Choice for Sex Toys:
Week of: Tuesday June 25th, 2019
Which sex toys excite and which ones disappoint? Find out now by checking out the results of this week's poll question. Nothing can add some fun and excitement to your sex life faster than a great sex toy. Make sure you choose the right sex toys for your needs by reading the poll results today!