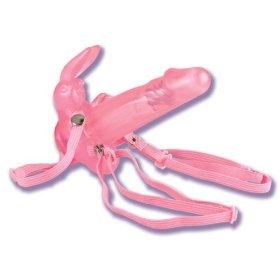 Waterproof Wireless Bunny

:
Female Sex Toy Review
Rated:
84

out of

100


by

SexTips.org
If you prefer to get wet and wild in the bathtub, Jacuzzi or swimming pool, then check out the waterproof vibrator. The Waterproof Wireless Bunny vibrator is a very soft jelly–like sex toy that has a vibrating penis and bunny ears that tease and titillate your clitoris. This new playmate includes rotating metals beads in the shaft area, reverse action that will make you quiver and has three speeds of vibration, three speeds of rotation, and one–touch activation.
Waterproof Vibrator is the Sex Toy of Choice
The testimonials of almost everyone that tried the waterproof vibrator were nearly the same – an arousing yes! Women and men loved the fact that the Waterproof Vibrator was as fun to use in the water as it is in the bedroom. The clitoris stimulator was a particular hit with women when they were in the tub or shower –– the combination of the water and the buzzing power of the stimulator gave them eye–popping orgasms that they have never felt in their lives.
The choice of three speeds was also a hit and the intensity of the vibrating penis made these ladies go back for more. They also gave high marks to the quality of the vibrator. Many women were concerned that it would malfunction in the water after multiple uses, but so far it looks like this sex toy aims to please even when it faces the most rigorous encounters.
Although there are many other sex toys that have more "bells and whistles" the Waterproof Vibrator seems to do the trick and it gives you the freedom to bring it in the water for a wet and wild experience.
More on the Waterproof Vibrator
The vibrator is seven inches long with a one and a half inch girth. It takes two AA batteries and retails anywhere from $30 to $70 depending on the quality and the place where you purchase it. It is also a very capable sex toy away from the water and in the bedroom. It's up to you to pick your pleasure.

Our Readers' Poll Choice for Sex Toys:
Week of: Tuesday June 25th, 2019
Which sex toys excite and which ones disappoint? Find out now by checking out the results of this week's poll question. Nothing can add some fun and excitement to your sex life faster than a great sex toy. Make sure you choose the right sex toys for your needs by reading the poll results today!