Fellatio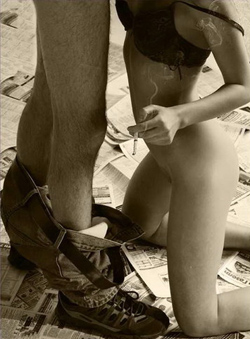 Ladies, turnabout is fair play, so if you man makes you claw the bed covers in ecstasy when performing oral, it is only fair that you learn the finer points of fellatio and return the favor.
Just What is fellatio?
Oh, it is just a fancy Latin term for a blow job and if done well, can keep your man faithful to you for the rest of his natural born days. Unfortunately, most women won't do it for their guy and those who do may not be very good at it.
That is why it pays to understand the male penis, how it functions and the moves that will make your man remember every birthday and anniversary till death do you part.
Fellatio Tips
Nearly all sex positions have a variation on the theme. The type of fellatio act you choose will depend on your comfort level and abilities. For example, a woman who can take her man's penis down her throat won't mind him ramming his rod into her mouth as he sexes up her face – another girl may not like that so much.
On average, the man is laying on his back while his girl takes him into her mouth and services him. This gives her the greater amount of control. When a man straddles her face, he is the one in control.
Again the choice will largely depend on the couple's comfort levels.
How the Male Penis Works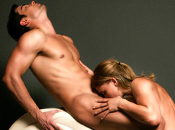 When a woman goes down on a man, she needs to keep in mind that there are three parts of his organ she should pay attention to: his head, his shaft and his scrotum aka balls.
Licking the head and the balls while stroking him is one way to get him primed and ready. When you take him into your mouth do so slowly, being sure to use your tongue as often as possible. Licking the shaft is good too, especially the underside which is particularly sensitive.
Don't grip too hard or bite the sensitive scrotum areas - save love nips for the head and be delicate. Listen to your partner's subtle cues that he is getting off. His breathing will deepen; he will pant and squirm and may even grab your head to direct your movements. If that is okay with you let him - if not, tell him before hand.
You will also have the option to swallow his cum or to jack him off during his orgasm. Men often prefer that you swallow but again, the comfort level of certain aspect of fellatio should be talked about prior to the act as the penis will be penetrating the oral cavity and for some ladies, this may not be a comfortable sensation.
Please Your Man
No matter what though, loving your man's member is probably the best thing you can do to spice things up romantically. You may also find that there are some aspects of giving oral to your partner that provides intense degrees of erotic pleasure for the both of you. Experiment with different positions, and delaying his orgasm for maximum pleasure.
Male Sex Enhancement


Hot Topics


Secrets of the Porn Stars Make her quiver!

Faking it?
Say hello to the big "O"
Multiple Orgasm Tips