Face to Face Positions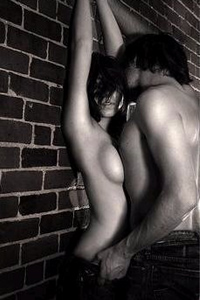 For couples who wish to get romantic, face to face sex is an oldie but goodie with many variations in style so you can't get bored. The best aspect of face to face loving is eye contact. There is something especially erotic about watching your lover's face as you start to move in time to one another's heart beats and your temperatures begin to rise.
One of the more exciting aspects of face to face, or missionary positions, is the connection you can feel with your partner. This connection can even heighten some of the sensations you are experiencing.
There are many delicious face to face positions, and some of them may take a bit of leg or arm strength to accomplish. Before an individual tries to undertake one of these tantalizing deviations, they may want to ensure that they are in optimum health. How embarrassing would it be to go to the emergency room and tell administrators there that you hurt yourself in a "sex" accident?
Caution always trumps adventure in this regard.
For example, a missionary position called the deck chair involves a woman hoisting her legs high in the air as a man splays his legs as far as they can go for a low and deep penetration. With this position, a woman's legs can get very tired or the man can pull a muscle in his back or hamstring. This is why one should bear in mind the correct way to perform a face to face sex position.
Face to Face Position Tips
As with all sex positions, it pays to adjust height differentials. This is where an ordinary pillow can become two lovers greatest ally. A pillow that is slid beneath the buttocks of the receiver allows for maneuverability and ease of positioning. The man can then take her legs or ankles in hand and move her around more.
This position can also drive the woman to untold heights of ecstasy as the penis can be angled a number of ways in search for the honey spot!
Face to face missionary positions can be spiced up and cannot be beat for their ability to bring couples closer to one another. In the end, face to face can mean all the difference between a routine wham – bam – thank – you – ma'am and the earth shattering lovemaking that makes being in a relationship worthwhile.
Male Sex Enhancement


Hot Topics


Secrets of the Porn Stars Make her quiver!

Faking it?
Say hello to the big "O"
Multiple Orgasm Tips