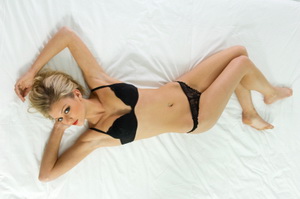 Oral Sex Tips
For many women, good oral sex is a mystery. Sometimes, it's just hard to figure out what really works. That's why we've come up with this guide of oral sex tips. By following these oral sex tips, you'll understand exactly what it takes to turn your man on.
Remember, every man is different, so these tips on oral sex can vary depending on your partner's preferences. That's why communication is such an important piece of the puzzle. Oral sex is something you and your partner should talk openly about so you can figure out his likes and dislikes and he can do the same in return.
Tips on Oral Sex
Of all the tips on oral sex, one of the most important is to at the very least act like you want to do it. There's no bigger turnoff to a man than a woman who only does it out of obligation or because he went down and now it's her turn to give back. Oral sex (and sex in general) isn't about keeping score of who gave what. Foreplay is about passion, and it's about giving and receiving pleasure because you want to.
So, don't kill the passion by turning fellatio into a chore. Better to not do it at all than to do it begrudgingly.
Tips for Better Oral Sex
Another of the important tips for better oral sex is to take the time to educate yourself. You're doing so right now by reading this article, so you're off to a good start, but don't stop here. Continue to read oral sex tips whenever you can. Knowledge really is the key to understanding how exactly oral sex works and how to do it better to give your man the pleasure he desires.
There are great guides out there that include both his and her tips for better oral sex. In fact, we have that information right here on this website. Both you and your man can read these guides for good oral sex, and your sex lives will improve tremendously. Learn more about best oral sex techniques.
Tips for Good Oral Sex
Before you go, let's talk about some actual tips for good oral sex.
Ask your man what he likes. Every guy likes different things. Some may like a little teeth and slight biting; others don't like that at all. Open lines of communication is one of the most important tips for good oral sex.
Treat him with care. Don't suck too hard or pump him too hard with your hand as this can cause more pain than pleasure. If he wants you to be rough, let him tell you. Otherwise, use care.
Don't be grossed out by semen. It's not poison, and you don't have to get disgusted by it. That's a turn off. That's not to say you have to swallow, but just be considerate.